Kryzys w strefie euro zejdzie z radarów inwestorów na jakiś czas, ponieważ sytuacja wokół Iranu powoli wymyka się spod kontroli. Iran ogłosił manewry wojskowe wzdłuż granicy z Afganistanem i ponownie w cieśninie Ormuz, w czasie gdy będą tam manewry koalicji USA-Izrael. USA, Unia Europejska, a także Japonia i kilka innych krajów zapowiedziały nałożenie sankcji na import irańskiej ropy, zaś Strażnicy Rewolucji wydali oświadczenie, że gdy te sankcje wejdą w życie to zablokują cieśninę Ormuz i 40% światowych dostaw ropy tą drogą. Już pisałem, że to oznacza ropę po 200 dolarów za baryłkę i głęboką globalną recesję. Ale to nie koniec, jednocześnie Iran ogłosił przyspieszenie prac nad wzbogaceniem uranu, co prawdopodobnie oznacza czerwony alert w USA i Izraelu. I faktycznie, po godzinie szef Pentagonu powiedział, że USA użyją siły jeżeli Iran zablokuje cieśninę Ormuz.
Nie znam się na strategiach militarnych, może ktoś z czytelników bloga podrzuci jakieś analizy, które pokażą co się może z tego wykluć (może ktoś ma aktualne analizy Stratfor-a). Ale jeżeli czeka nas incydent w cieśninie Ormuz lub prewencyjny atak Izraela na Iran, to znaczy że budzi się matka wszystkich strachów.
Paskudnie zaczyna się ten 2012 rok.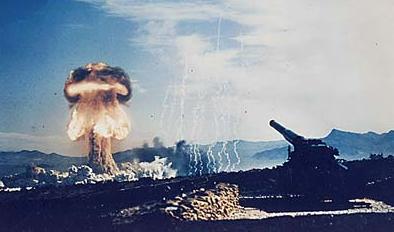 ---